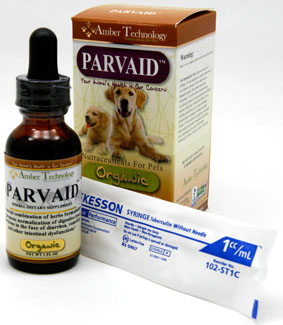 Paxxin (formerly Parvaid) is an excellent natural organic remedy that helps parvo puppies recover from the parvo virus. Paxxin has a 90% success rate when dosed preventatively to puppies who have been exposed to the canine parvo virus.
Parvaid is a natural organic herbal remedy that contains mentha piperta, spearmint, chamomile, plantain, echinacea, berberis aquilfolium, rose hips, garlic, hydrastis canadensis, hibiscus flowers, yarrow, alcohol, and distilled water. Paxxin helps 1000's of puppies around the globe overcome the deadly canine Parvo Virus disease, aka "Parvo" every year.
At Parvo Puppy.Com, you will find lots of canine parvovirus information on our web pages, such as parvo symptoms, healing parvo, parvo prevention, as well as information on the terrific natural products that help parvo puppies heal: Parvaid and Vibactra Plus.
IF your puppy has parvo and was vaccinated or chemically wormed within 2 weeks of coming down with parvo, we recommend using the Life Cell Support to help your puppy detox the toxins from the vaccines and chemical wormer, as these things can prevent a puppy's recovery from canine parvovirus. Adizone is especially helpful for recently wormed puppies whose intestinal tracts have swelled from both parvo and chemical wormer.
IF your puppy has worms, it is best to use a natural wormer such as Food Grade Diatomaceous Earth (DE). Food Grade Diatomaceous Earth is safe enough to give to puppies who have parvo, unlike chemical wormers that more often than not will kill a puppy who has parvo. Since worms can prevent recovery from parvo, a natural effective wormer is best to use when they are so sick. You may be able to find this at a local feed store, if not, you can find it on our Natural Organic Puppy Products webpage.
---
Healthy animals rarely succumb to disease, illness, or bad behaviors. When they do, they bounce back quicker than unhealthy animals. They get plenty of exercise, sunshine, love, tender loving care, natural rearing foods that are biologically appropriate to the specific animal, clean environments, mental exercise in the way of proper, appropriate training, and avoidance of toxins. They have jobs to keep them busy, whether watching the house while we are gone or making sure the couch or cats don't get eaten while we are away. They are part of our family. Often, they are better than a few humans in our immediate family and deserve the BEST possible health care we can give them.
Puppy Love X 3
All Information and Photos © Copyright 2005-present, ParvoPuppy.Com and may not be used without express written permission from ParvoPuppy.Com. Please email Webmaster for comments about this site.